Recently, I traveled to California for the first time to attend an event at Disneyland.  From the moment I started planning the trip, I knew that if I was going to Anaheim, I was not missing certain nearby attractions.  I'm not talking about the Hollywood Walk of Fame, the Chinese Theater, or any of that.  There was no question–if I was going to be in the greater Los Angeles area, I was going to be going to the Richard Nixon and Ronald Reagan Presidential Libraries.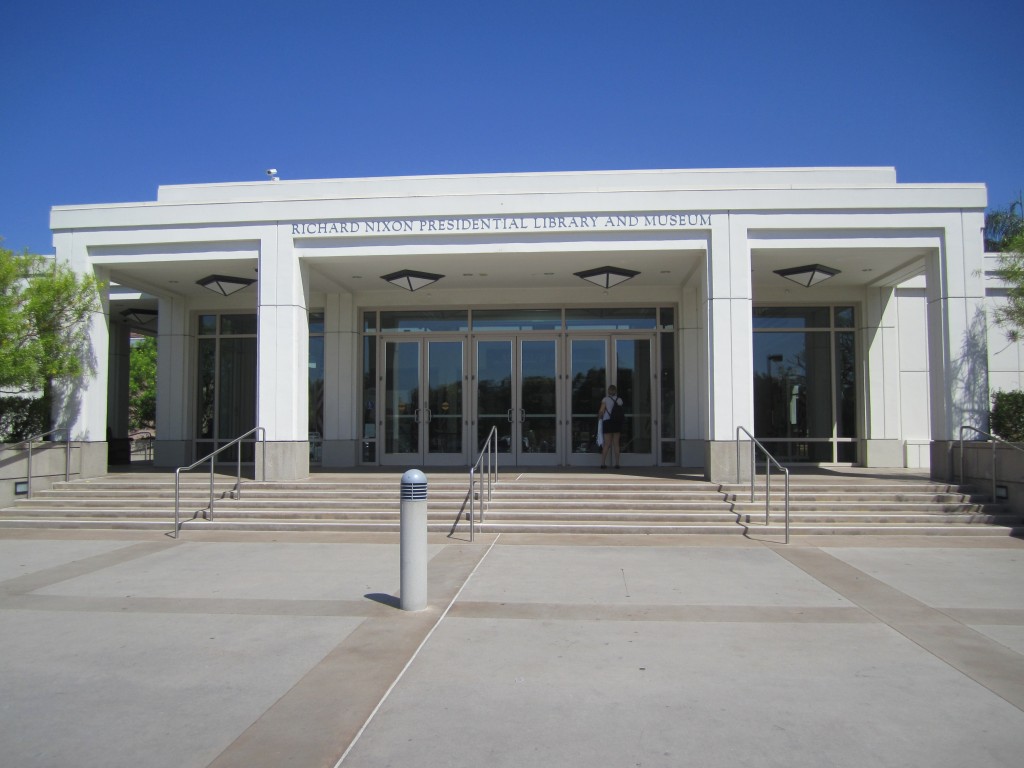 I visited the Nixon Presidential Library & Museum on 9/1/2014, and then went to Reagan's the next day.  I will cover Reagan in another post.
The museum itself is kind of tucked away in a mostly residential area in Yorba Linda, California, just ten miles from Disneyland.  It's not the most grand of Presidential Library locales, but that's understandable considering that it was built around Nixon's birthplace.
Nixon's was the fourth Presidential Library that I have visited (after LBJ, Clinton, and Carter).  I was curious to see how they told his story.  Typically, these libraries paint a very positive picture of the featured President, focusing on their accomplishments.  Really, no matter what your politics, each President of the modern era really does have some admirable accomplishments.  However, it would quite a feat for this particular library to pull off the typical "This President was AWESOME!" storyline when we're talking about the only President ever to resign from office.
The story that the museum ended up telling was that of a man who had faced several setbacks in his life, but worked hard, never gave up, and persevered.  Fair enough.  I should however note that, while the museum has been around since 1990, it was under private control until 2007, when the National Archives took over.  Prior to the transition, the museum did present Nixon with more of a favorable aura than it does now.
As is typical, the museum experience started with a film.  A disclaimer up front said that it was made back when Richard and Pat Nixon were still alive, which makes it over two decades old.  It still help up well enough.  While you waited for the next film to start, there were some things to look at in the lobby, including a timeline and, my favorite, a model of Nixon's childhood home.
After the film, you are snaked around through a series of exhibits, working your way chronologically through Nixon's life.  From there, you go outside to see his burial site, birthplace, and the Presidential helicopter.  Returning to the main building, you can enter a different wing to see a replica of the East Room of the White House and a traveling exhibit before exiting through the gift shop.
Much of the museum was what you might expect.  There were replicas of White House rooms (such as the Lincoln Sitting Room, a favorite of Nixon's), exhibits chronicling the President's life and Presidency, historical artifacts like campaign buttons and gifts received by the President during his term in office, etc.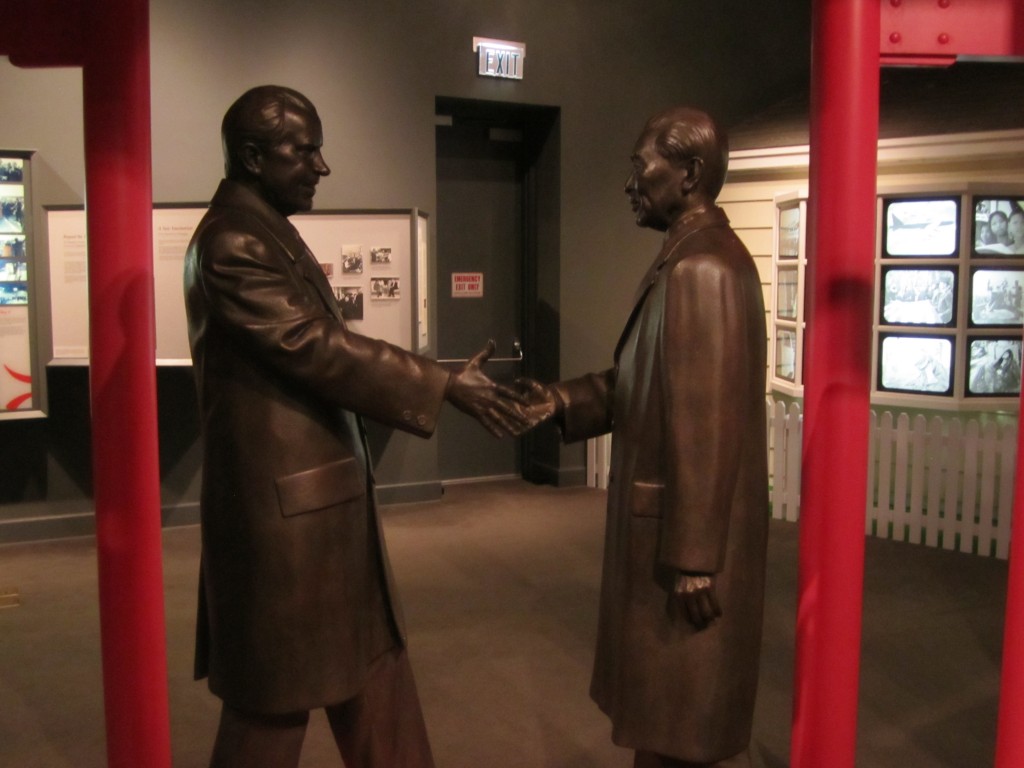 One of the things that did stand out were the statues of world leaders.  Above are statues of Richard Nixon and communist leader Chou En-lai, about to shake hands!  Whaaaa?  This kind of thing just won't fly at Reagan's library.
I didn't manage to snap a photo, but there was a room right before this one dedicated to statues of world leaders.  Here, Winston Churchill, Nikita Khruschchev, Mao Tse-tung, and others all hang out in the same room while a not-so-subtle disclaimer sign alerts visitors that the statues are there because Nixon requested them, and that this should not be interpreted as the US Government endorsing these leaders in any way.  Of course, that sign is not there because of Winston Churchill.
Leadership was something that Richard Nixon put a lot of thought into.  He wanted these leaders depicted because they left an impact on the world through their leadership (even if some of them were "bad guys").  However, partly because there's not a lot of context in the room, it can appear like all leaders are being honored as being equally good guys, and this has upset a lot of people.  This exhibit was put in place when the museum was privately owned, before the National Archives took it over in 2007.  This 2009 article from the LA Times talks about the room and suggests it may be changed, but five years later it is still intact, so who knows?  I don't mind the room.  I kind of like how it does illustrate that leadership is complicated and not all leaders are saints and heroes.
Other exhibits include the Presidential limo, a crate that transported one of the giant pandas received during Nixon's administration, and a piece of the Berlin Wall.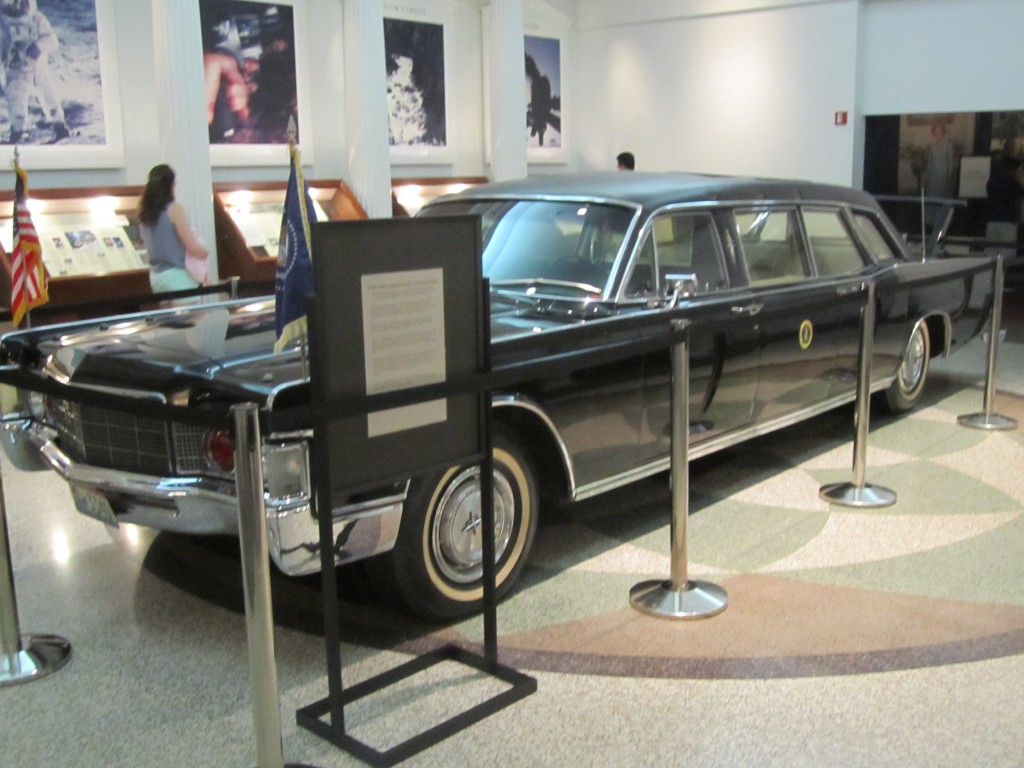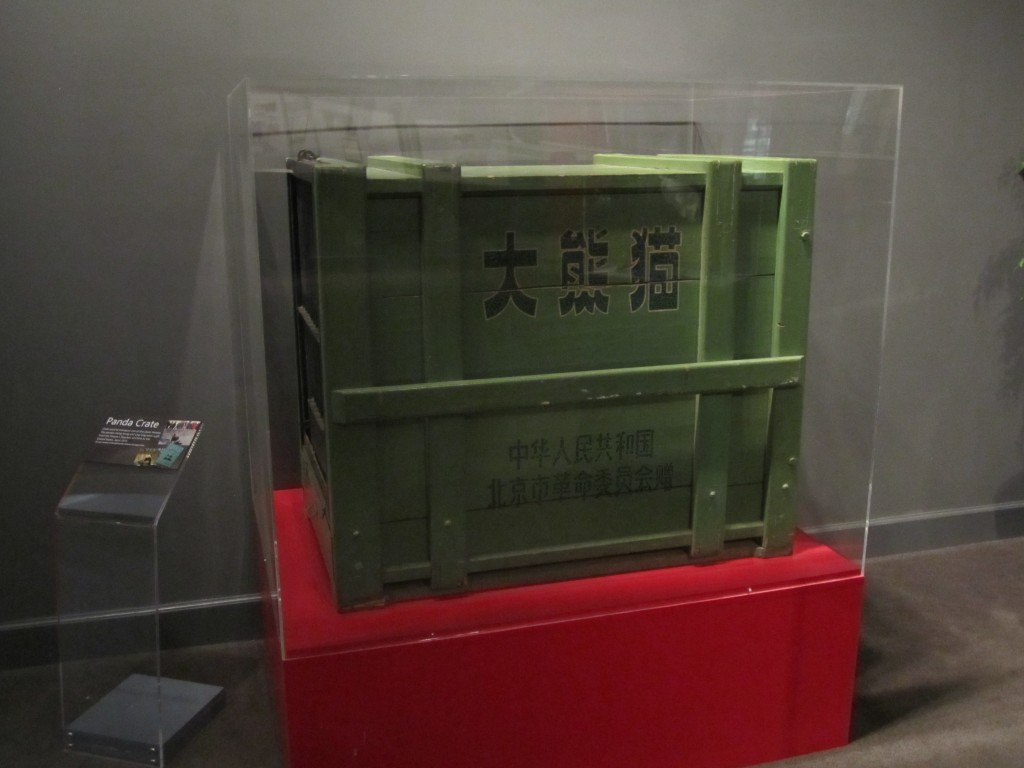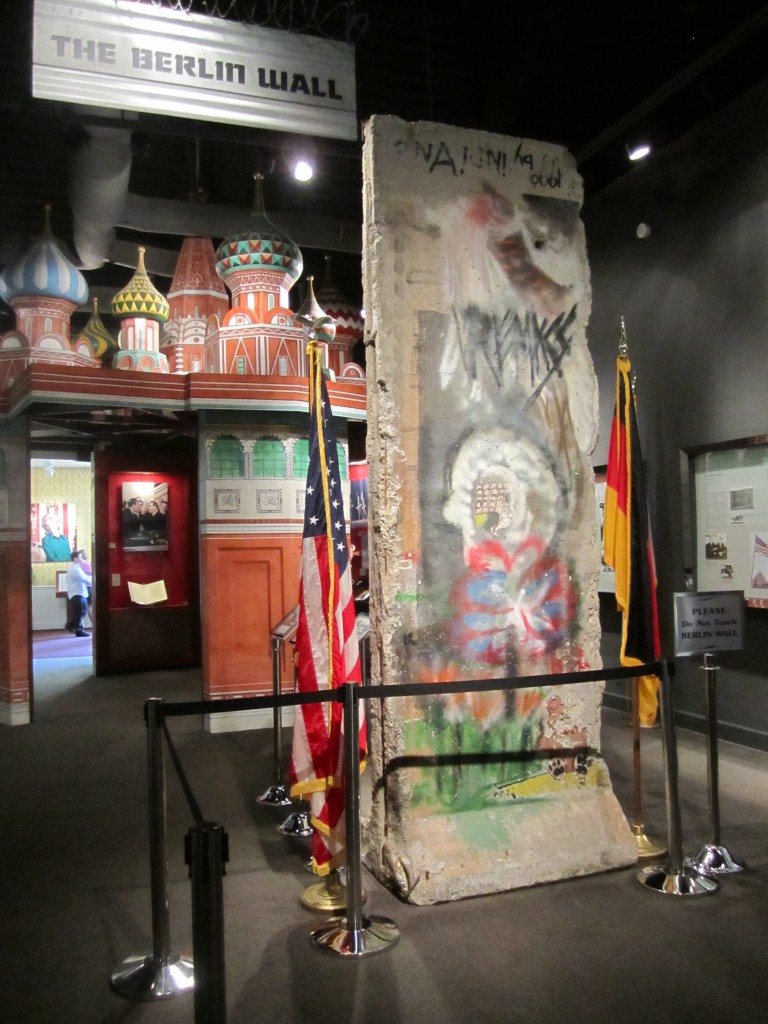 And, of course, there's the Watergate room.  You can't tell Richard Nixon's story without Watergate, right?
What's interesting is that the current exhibit has only been there about three years.  Richard Nixon himself was involved in creating the original exhibit, which depicted the scandal as a conspiracy against him by Democrats.  That version ran from when the museum first opened (as a private institution) in 1990 until the National Archives took it over in 2007.  Then, the exhibit was removed almost immediately and ultimately replaced with the new one, resulting in much discord with the Nixon Foundation.
Upon entering the new Watergate exhibit, it is clear that any trace of the kinder, gentler Watergate exhibit are gone.  Right away the intense red color prominent throughout the exhibit visually sets it off from the rest of the museum.  Here, the walls are lined with extensive facts about the scandal.  Apparently, you are even able to listed to recordings of the Watergate tapes, but I somehow managed to miss that.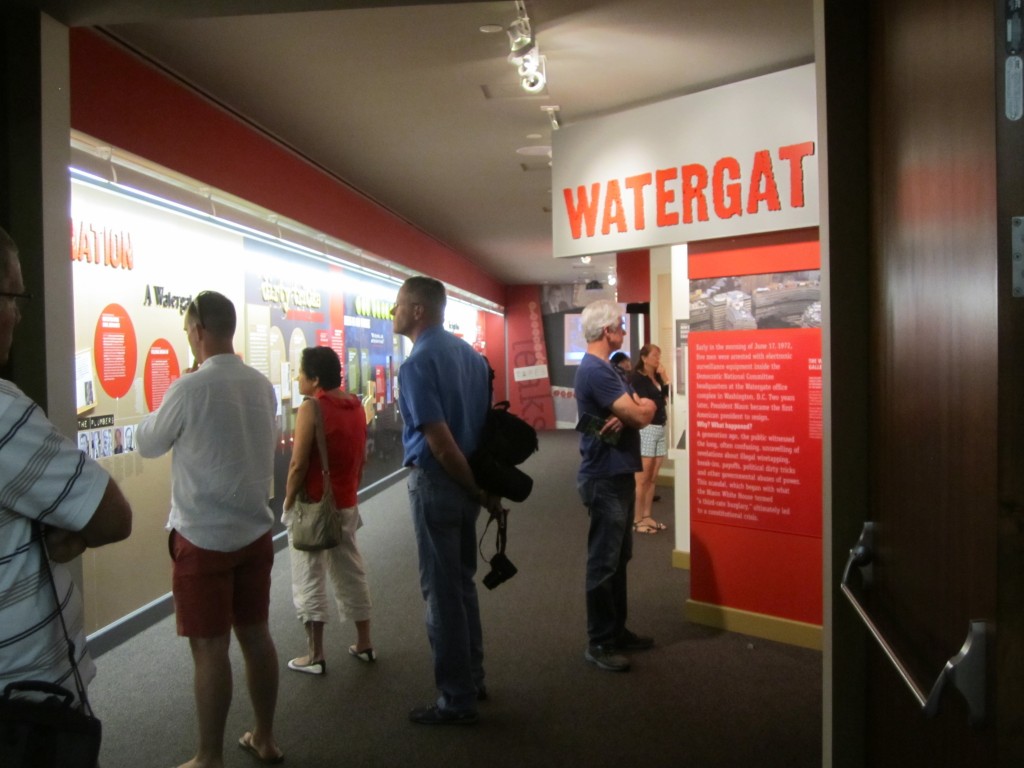 While obviously Watergate is one of the first things people think of when they think of Nixon, for whatever reason the scandal has never captured my interest all that much.  I didn't end up spending all that much time in the Watergate room.
Once you finish the main exhibits inside, you can go outside and visit the burial sites of Richard and Pat Nixon.  They are buried just a few steps away from the President's birthplace.  Their burial spot is very modest, sitting along the walkway between the museum and the house.
One of my favorite parts was the house that Richard Nixon's father built, and where Nixon was born.  It was just a tiny house, but they managed to cram a family of six in there for a time.  Richard was the only one who was born at home.  One thing that was especially cool is that almost all the furniture, decorative items, etc. were original.  Normally, when you visit historic homes like this, a lot of the pieces are recreations or other antiques from the same era, but the Nixons' possessions were all put in storage, so when it was time to restore the home, they were all sitting here waiting.  The volunteer who gave us the tour of the house was very knowledgeable and was able to answer all our questions (no, Nixon's dad did not buy his house kit from Sears).
The Presidental helicopter was nearby.  Usually they will let you on the helicopter and a volunteer will be there to tell you about it, but it was crazy hot out, so there was none of that when I was there.  It would not be good for the library's reputation if visitors were cooked in the helicopter.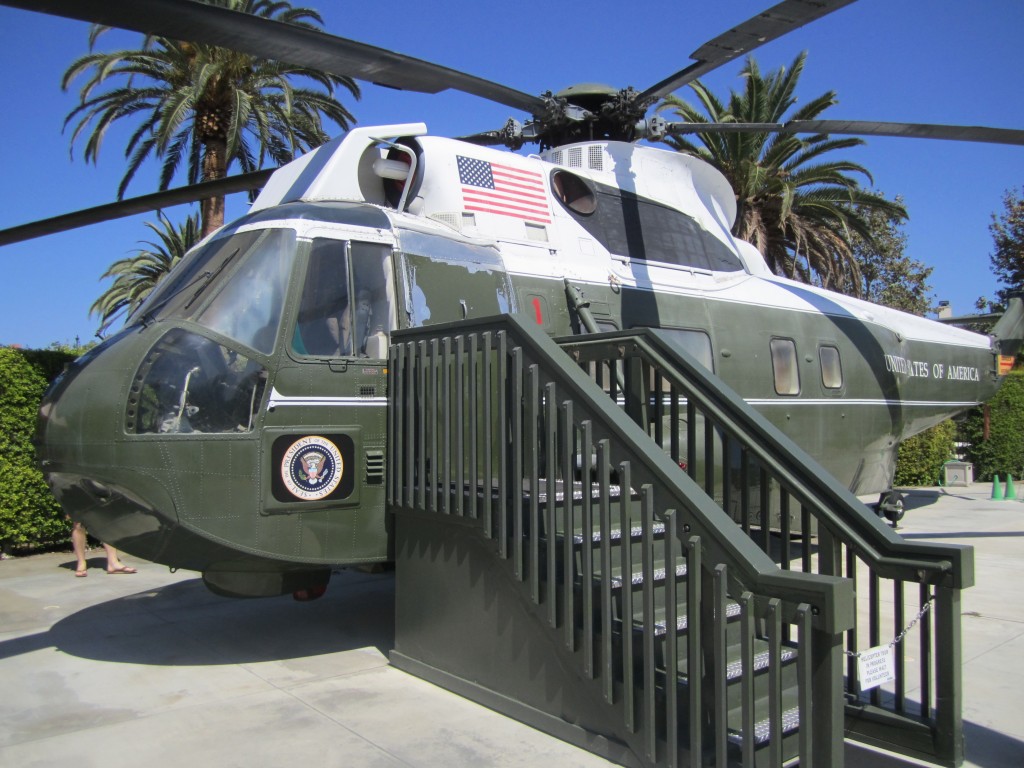 Returning to the main building, we came to the replica of the East Room of the White House, which made me feel like I was attending a fancy event.  There was no one else there, but it was open so we could just hang out and feel important.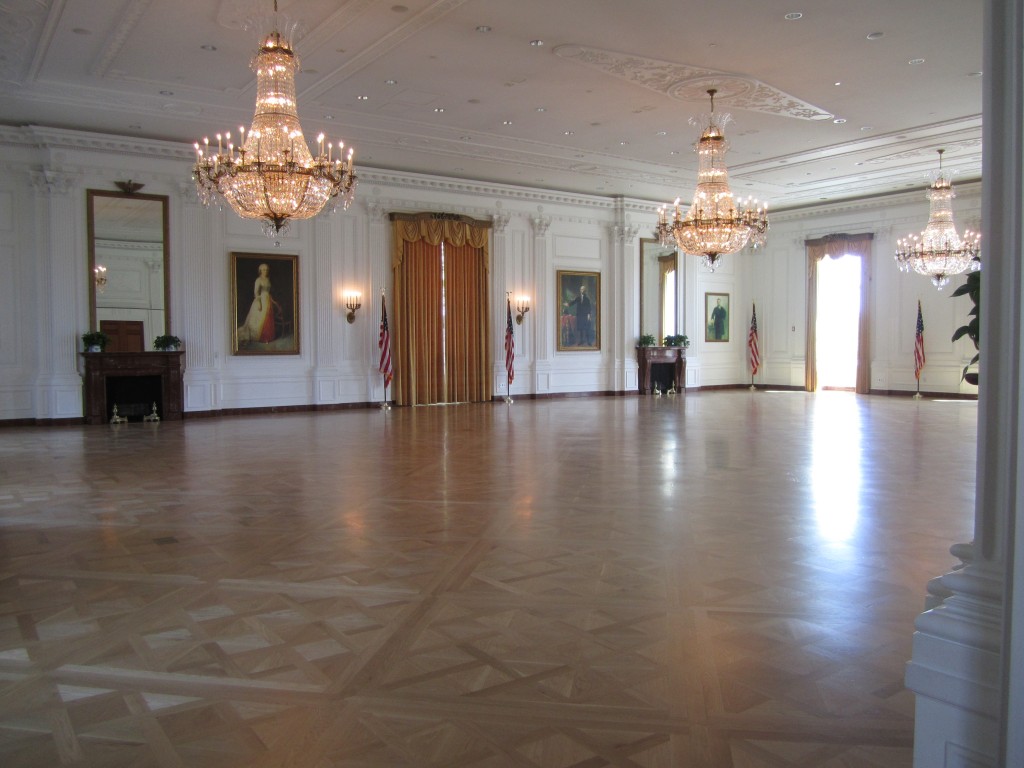 Also in this area is space for a rotating exhibit, which at that time was about Presidents and baseball.  It was interesting enough, even though sports isn't really my thing.  I did happen to see one thing that caught my interest, though…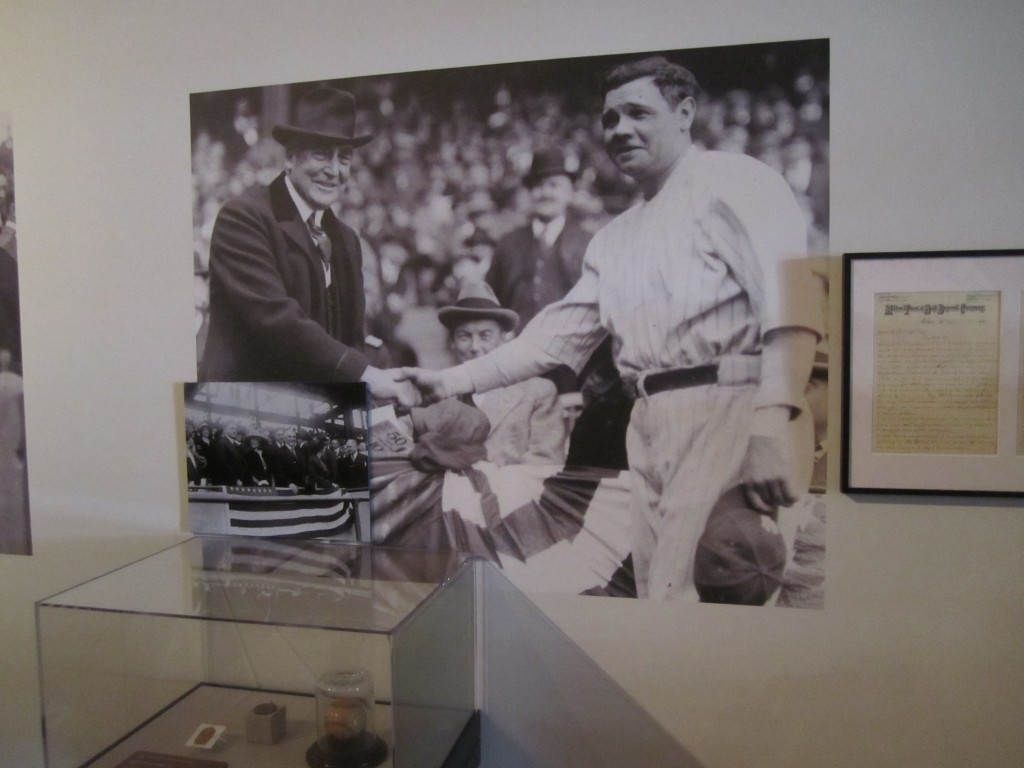 Upon seeing this I excitedly turned to my father and told him to look who it was!  "It's the Babe!" he replied.  Nope.  Not why I was excited.  I honestly didn't even notice that Babe Ruth was in the photo until my father mentioned it.   My Warren G. Harding radar just kind of blocked out everything else.
After this, we ended in the gift shop.  Among other mementos, I picked myself up a Richard Nixon bobble head and a "What Would Nixon Do?" mug.  All in all, it was a good day.  If I'm ever in the area again, I would definitely make another visit.